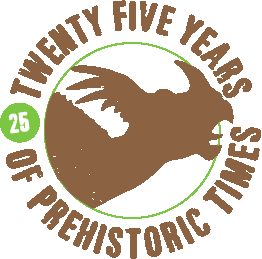 For the Dinosaur Collector and Enthusiast
25th Anniversary Issue!
Prehistoric Times is the magazine for dinosaur enthusiasts and collectors of related merchandise. Each full color, 50+ page issue includes reviews of the latest prehistoric animal model kits, toy figures, books and more, plus interviews with artists and scientists, artwork from the finest paleoartists in the world and the latest scientific discoveries in paleontology. Also news and information about prehistoric life you won't find anywhere else.



Issue #125
The 125th issue of Prehistoric Times magazine, Spring - our 25 year anniversary.
Barbourofelis, the saber-toothed cat.
The gigantic dinosaur Patagotitan.
Burian's Ichthyosaur art.
Learn how to draw Tyrannosaurus rex
First postage stamps with dinosaurs on them
The PT interview - paleontologist Steve Brusatte and paleoartist Todd Marshall
and much more!



Prehistoric Times
145 Bayline Circle
Folsom, Ca 95630-8077
(916) 985-7986 before 5PM PST


Prehistoric Times is now also available as a digital download for your favorite mobile device.




PT logo by William Stout redone above by Thomas Miller.
Background image based on art by Thomas Miller


This site was updated on April 30, 2018